Lean & 5S' in Construction #13 Aug 2006
Submitted by Dennis Sowards on 16 August 2006 - 12:00am.
Newsletter August 2006 - Issue #13
**************** Inspect Your Own Work
Traditional approaches to quality control/quality assurance is "inspection.' We typically audit, inspect and/or test at the end of the process. Often we rely on someone else to perform this inspection. Lean does not do away with inspection but changes where, when and who does it.  We want self-inspection.  The Japanese say about defective product – don't get, don't make it and don't pass it on.  Do the people doing the work know if what they received is right?  Do they know when they have done their work right?  Do they know how to inspect their work to see if it is right? Are they trained sufficient in these areas? Does each worker know when he/she has installed the work right?  Is he empowered to stop the work if something is not right?  We never want to install bad product. Field workers need the knowledge, equipment and time to make sure that the product being installed is working properly.  How do you make this happen? How do you know it is happening right?
**************** Measure & Analyze
In Womack's book Lean Solutions he writes about Pedro Simao the CEO of Portugal's third largest car dealer group, Grupo Fernando Simao. How Pedro has implemented Lean in his dealerships including the repair shops.  One approach, that I feel we should consider in construction's internal operations and in Service operations, is to measure 'customer fulfillment.'  This measures if the repaired vehicle is being delivered to the customer on time and everything done right the first time.  At Simao if there is any failure in fulfilling the commitment to the customer, they do a root cause analysis and seek to permanently remove it. In construction, how are our internal functions serving the field operations? Do we deliver what they ordered when they needed it and all that they needed right first time. When we fail, do we just pass it off as a bad day and assume it is part of life or are we serious about improving our internal service? To improve means to change from how we do things now as nothing can improve without something changing.  Pedro has seen great improvement in his car repair operations and in his customer satisfaction ratings.  Simao has cut the average service by 30%. (1)
The same approach can apply to Service operations. We should measure customer fulfillment of service.  What gets measured gets results. What is our current level of fulfillment and what would it do for us if it were increased?  We could realize higher customer loyalty and increased profits if we measured and then followed with root cause analysis.  Womack asks an interesting question, if we had to pay our customers for the their time waiting on us to serve them once we have promised service would we be faster in serving them?  What would we do different than today if this was the case?  Lean always asks the difficult questions but these questions are worth exploring.
(1) Lean Solutions by James P. Womack and Daniel T. Jones, Chapter 4.
***************** Project Management – There is a better Way (Part 2)
The Last Planner System (LPS) * is a process of planning and preparing the work done weekly by the crews and learning to reduce barriers and roadblocks. The 'Last Planner' is the foreman or field supervisor who assigns the crew their actual work assignments each day. This is the real last planner of the work. The planning process is divided into 4 levels: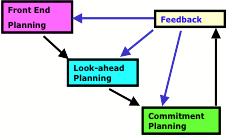 Up Front Planning
Look-Ahead Planning
Commitment Planning
Feedback.
Front End Planning: The top level planning system includes making up a detailed or phased schedule.  The phased schedule can best be developed by doing reverse or "pull" planning.  The front end planning is critical to the project success because it spells out the "SHOULD DO's" work for the job.
The master schedule need not be as detailed as typically done. It must demonstrate the feasibility of completing the work in the available time. It should develop and display execution strategies and determine when long lead items (equipment or specialty materials) are needed. It identifies the milestones that are important to clients and stakeholders. It cannot and should not be used as the tool for managing activities except on relatively small and simple projects. More detail schedules are developed in the phase schedule to support completion of master schedule.
The phased schedule is developed by the project/job management team including all sub contractors using a structured planning meeting. They review the master schedule with its appropriate milestones for each phase. They then work back from the key milestones to identify the work needed to complete that phase. This "pull" or back-to-front process identifies the conditions required for work to be released from one activity to the next and the coordination necessary to allow multiple activities to proceed concurrently. This meeting is best done on a blank wall where people can add post-it type cards for each activity and move the cards around as new work is revealed. A rough time scale should be established so people have a sense of the timing involved. This is a highly participative process often rich in horse-trading and negotiation. Activities in a phase schedule are highly dependent on each other. They involve routine and repetitive interfaces between trades and therefore require close coordination.
A typical phase scheduling process will take a few hours although the time can be shortened if the team is experienced and/or templates from similar work are available. Near the end of the process, durations should be established for each activity. The durations establish the critical path through the phase and in most cases, the float time within the phase will be apparent.
Look-ahead planning (LAP):  The LAP is the middle level in the planning system. This step is about magnifying the work from the phased schedule into workable tasks and by doing constraints analysis to make these tasks ready to be performed. Basically this is turning "SHOULD DO's" into "CAN DO's." Typically the look-ahead window extends from 3 to 6 weeks into the future depending on the length of the job. Each week, new look-ahead tasks drop into the look-ahead plan and (hopefully) tasks that are ready, drop onto the weekly work plan.  But the most important look-ahead is the first week because it will become next week's work plan.
Constraints are anything that stands in the way of a task or work assignment being executable or "sound." Typical constraints on construction tasks are the completion of design or prerequisite work; availability of materials, information, and directives. Screening tasks so they CAN be done consists of reviewing each task to see if any constraints exist. If so, the action at the LAP step is to remove the constraint.
Commitment planning: The bottom level in the planning system is the Weekly Work Plan. This plan represents the Last Planner's commitments to deliver on the various work assignments that are ready to be performed.  We can rely on these commitments because they follow the rule that only sound assignments are to be accepted or made. These are the tasks the crews "WILL DO" and are selected from the "CAN DO's" list.
Does it work?  In installing wet bench tools at a customer's chip fab, one contractor had always come in over budget by several 100 man-hours. Using teamwork and the Last Planner System a team was able to install the tool for 300 hours under the budget.  This is a first and while the planning process is not the sole reason for this success, it can take partial credit.
* Last Planner System is a trademark of the Lean Construction Institute.
**************** Learning Opportunities
You may be interested in attending one of these training seminars:
Aug. 23, 2006 – Lean Works in Construction – Kansas City, MO – Kansas City SMACNA Chapter
Sept. 14-15 - Introduction to Lean Construction - Albuquerque, NM. register online at MollyGuard.com
Nov. 7 – 10 - The LCI Annual Meeting


 Nov. 7 -"A Brief Introduction to Lean Construction"
Nov. 8 – 9 - Lean Project Best Practices.
Nov. 10 – A day of reflection and discussion. Registration at leanconstruction.org.

Nov. 30 – Dec. 1 - A Lean Design Forum meeting - Berkeley, California. For more information please contact ghowell@leanconstruction.org. 
***************** A Quick Thought
"It is better to aim at perfection and miss it than to aim at imperfection and hit it."
Thomas J. Watson Sr. first president of IBM.
This e-newsletter is written by Dennis Sowards to share ideas on the 5S's and Lean practices especially as they are applied in construction.  If you have ideas or lessons learned to share please contact me.
For more information about Lean applications to construction and especially the 5S's contact Dennis Sowards at his office at 480-835-1185 or his cell at 602-740-7271 or at his web site: www.YourQSS.com